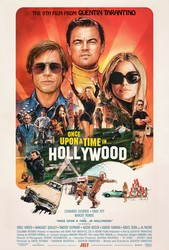 I revere Quentin Tarantino. He is one of my favorite writer/directors, and "Once Upon a Time . . . in Hollywood" keeps him firmly on top that pedestal.
Ostensibly about an aging washed-up actor, Rick Dalton (Leonardo DiCaprio), and his stunt double/personal assistant, Cliff Booth (Brad Pitt), the film recreates 1969 with detail, authenticity, and visual splendor. The cars, the movie marquees, the hippies, the television shows. Like most Tarantino movies, the plot is fragmented and not the central aspect—the characters are.
But there is a thread that stitches together the two-hour-forty minute runtime—Sharon Tate and Roman Polanski live next door to Rick Dalton, and Tarantino offers a revised version of the Charles Manson murders that involves Rick and Cliff, and culminates in the director's usual stunning displays of violence.
The movie is mesmerizing, beginning to end.
Best performance: Brad Pitt. Couldn't take my eyes off: Brad Pitt. Also Margot Robbie as Sharon Tate.
Five stars out of five.