I was excited to watch the 1972 movie The Getaway, starring Steve McQueen and Ali MacGraw.
I had seen the film once before, probably in the late 1970s, and I had a romanticized memory of it: tough and ultra-cool Steven McQueen, beautiful and mesmerizing Ali MacGraw, a taut and compelling plotline based on noir crime writer Jim Thompson's novel.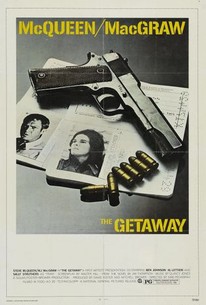 And then I watched the movie.
The story itself is a classic crime caper and has a lot going for it: when Doc McCoy (McQueen) is denied bail after four years time served for a bank robbery conviction, he enlists his wife, Carol, (MacGraw) to approach a dirty politician to pull strings to get him out. McCoy gets out, but on the condition that he pulls one last bank heist for the dirty politician. Things go awry, and Doc and Carol end up on the run.
The movie did not live up to my expectations or my memory of it. I've defended MacGraw in the past because I loved her debut film, "Goodbye, Columbus," which was based on an early-career Philip Roth novella, which I also loved. I don't remember MacGraw's performance so much in "Love Story," although I do remember my sisters sobbing when she was on her deathbed.
But in The Getaway, MacGraw is pretty bad. She's wooden, nervous, and dull (although still something to look at). She didn't get another movie role for six years after this film, and that's telling a lot about a beautiful actress in her prime.
McQueen was his usual tough-guy self, although the scene where he slaps around MacGraw after finding out she had sex with the dirty politician in order to gain his favor is a scene that could never be filmed today — and shouldn't be. But that's a story and culture issue, not a performance issue.
I got a little bored watching the movie. The dialog was mostly hoaky. There was absolutely no chemistry or spark between MacGraw and McQueen, yet it was while filming this movie that the two actors fell in love leading to marriage later. That storyline is actually more interesting than the movie storyline.
One high note was a performance by Al Lettieri, who played a side character on McQueen's crew and double-crosses McQueen. I recognized him immediately as the actor who played the villain Virgil "The Turk" Sollozzo in "The Godfather."
Also noteworthy in a funny way was the depiction of blood. There was a lot of shooting and the blood was a color of red you just don't see anymore in film. It really did look as bright as ketchup! And Doc and McCoy make an escape in a white Ford Country Squire station wagon with fake wood paneling — almost exactly like one that my family had in the early 1970s.
For years, I've been meaning to re-watch The Getaway. I finally did. Now I'll never have to think about it again.
3/5 Stars. An extra point is given for nostalgia.