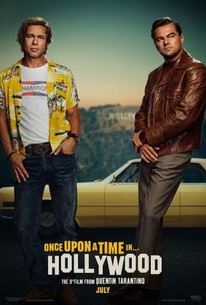 You either love Quentin Tarantino movies or loathe them. Put me in the love column. I've seen most of the films he's directed, and one of the best is ONCE UPON A TIME IN HOLLYWOOD.
The story centers around washed-up actor Rick Dalton (Leonardo DiCaprio) and his stunt double, Cliff Booth (Brad Pitt). Rick made a name for himself starring in the Western series Bounty Hunter but has recently been relegated to playing bit-part villains who get killed off in other stars' shows. His career is sinking. He spends most of his time hanging out with Cliff, who most people in Hollywood steer clear from because he'd been fired from the set of The Green Hornet for fighting Bruce Lee and was rumored to have killed his wife (reminiscent of Robert Wagner/Natalie Wood).
The actress Sharon Tate (Margot Robbie) and director Roman Polanski move in next door to Rick, and a reimagining of the Charles Manson cult gets woven into the storyline. At one point Cliff shows up the ranch where the Manson family resides and manages to get into a violent altercation. Rick has plans to become friends with Tate and Polanski in order to revive his career. Tate spends her time going solo to watch herself co-star in the movie, The Wrecking Crew.
One night a group from the Manson clan go hunting with the intention to kill Sharon Tate and everyone with her in the house. We all know what happened to Sharon Tate in actuality, but this is Tarantino and Hollywood, which means things turn out radically different than what history tells.
Immersive, provocative, visually beautiful, fractured storytelling, over-the-top violence—Tarantino's hallmarks are all on display. I'd call the movie nothing less than brilliant and definitely not for everyone.